A major problem for businesses is how to leverage natural language channels such as smart speakers, smart displays and digital assistants for eCommerce.
Smart displays and TVs are the key to unlocking this potential, with the promise of hyper-personalised, natural language driven customer experiences being the prize.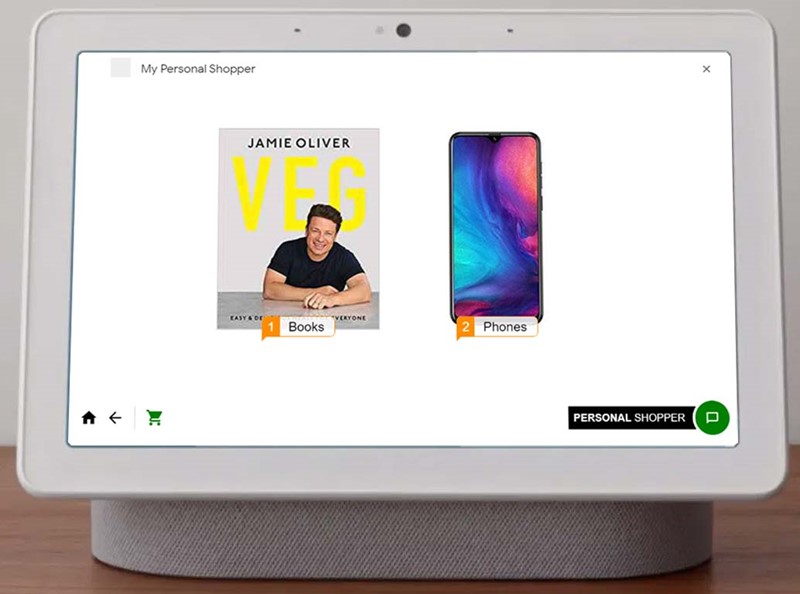 Google recently released their Interactive Canvas control on the Google Assistant platform, which is a rival to Amazon's Alexa Presentation Language (APL). Both frameworks allow businesses to create Web experiences for their customers on smart displays such as the Google Nest Hub Max and Amazon Echo Show.
The Google Interactive Canvas in particular has the potential to unlock eCommerce on these emerging platforms, and quickly! One of the key benefits of Google's approach is that it uses established web technologies i.e. html, css and javascript. This opens up Smart Display development to any mid-level web developer, even those with a limited understanding of Natural Language Processing. Google is only allowing the release of gaming apps on Interactive Canvas for the moment, but this will change.
Demo Of Ecommerce on a Smart Display
To demonstrate the potential for voice enabled eCommerce apps on Google Assistant, I have written an eCommerce app for a Shopping Assistant who offers the customer a 100% personalised experience.
The following short video shows the test version of the app, and some of the potential features that can be incorporated into this new, personalised language driven experience.